Out of respect, we waited a few days after the tragic deaths of Kobe Bryant, his daughter, and seven others before posting this article. Our perspective: remembering Kobe Bryant as a star marketer. He was many other things as well as others have so eloquently spoken or written recently.
At Evans on Marketing, we noted this six years ago this month:
Sports are a big attraction for many millions of fans in the United States alone. We seem to be on a first name basis with sports stars such as Derek, Kobe, LeBron, Peyton, Rafa, Beckham (OK, that's a last name. :-), and many more. That's why sports remain a booming business and a lure for advertisers. Just this week, it was reported that Disney was looking to buy time for a couple of more ads on February's Super Bowl — at a cost of $4.4 million per thirty second spot!
Tomorrow, we will look at some advertising plans for the 2020 Super Bowl.
Remembering Kobe Bryant as a Star Marketer
Kobe Bryant was born in 1978, He was 41 when he and eight others died when his personal helicopter crashed. According to Biography.com:
"Former pro basketball player Kobe Bryant won five NBA titles with the Los Angeles Lakers while establishing himself as one of the game's all-time greats. He died tragically in a helicopter crash on January 26, 2020.Who Was Kobe Bryant? He spent his early years in Italy and joined the NBA straight out of high school. A dominant scorer, Bryant won five NBA championships and the 2008 MVP Award with the Los Angeles Lakers. Although later seasons were marred by injuries, he surpassed Michael Jordan for third place on the NBA all-time scoring list in December 2014 and retired in 2016 after scoring 60 points in his final game. In 2018, Bryant earned an Academy Award for Best Animated Short Film for Dear Basketball. On January 26, 2020, he was in a helicopter crash that killed Bryant, his 13-year-old daughter Gigi and seven others."
Check out this video for career highlights.
Many of us remember Kobe Bryant as an all-time basketball great. But did you know this about him from a marketing perspective? He had a tremendous impact on sports marketing and celebrity. And he even won an Academy Award for the best short animated film.  Next, we highlight some of Kobe's marketing accomplishments.
An Early Appearance on 60 Minutes
At a rather early point in his career, Kobe Bryant already recognized the power of self-branding. He had an appearance on the popular 60 Minutes show in 2001.
Kobe Bryant and Nike
Outside of Michael Jordan and Tiger Woods, Kobe Bryant was the most important athlete for Nike. BUT, he initially endorsed adidas.
"It seems like it was decades ago when a brash 17 year old rookie named Kobe Bryant came on board to lift the brand and future outlook of adidas basketball. In 1996, Kobe got his first kicks from adidas called the EQT Elevation. The athletic rising star in Bryant received an invite and made a statement in 1997 by winning the Slam Dunk Contest. With his pair of Purple Elevations, Bryant would eventually win over a new generation of basketball fans."
Nonetheless, Bryant and Nike are inextricably linked together as marketing partners. As MarketWatch reported:

"Nike signed a four-year, $40 million contract with Bryant in 2003, when he was 24. Bryant teamed up with Nike to establish the Mamba League kids basketball program after retiring from the NBA in 2016. And his sneaker line with Nike is one of the top-selling in basketball history, Sports Illustrated noted, with many active NBA players like Lakers forward Anthony Davis and Houston Rockets forward P.J. Tucker wearing his designs."
Here is the tribute photo running at Nike's Twitter account.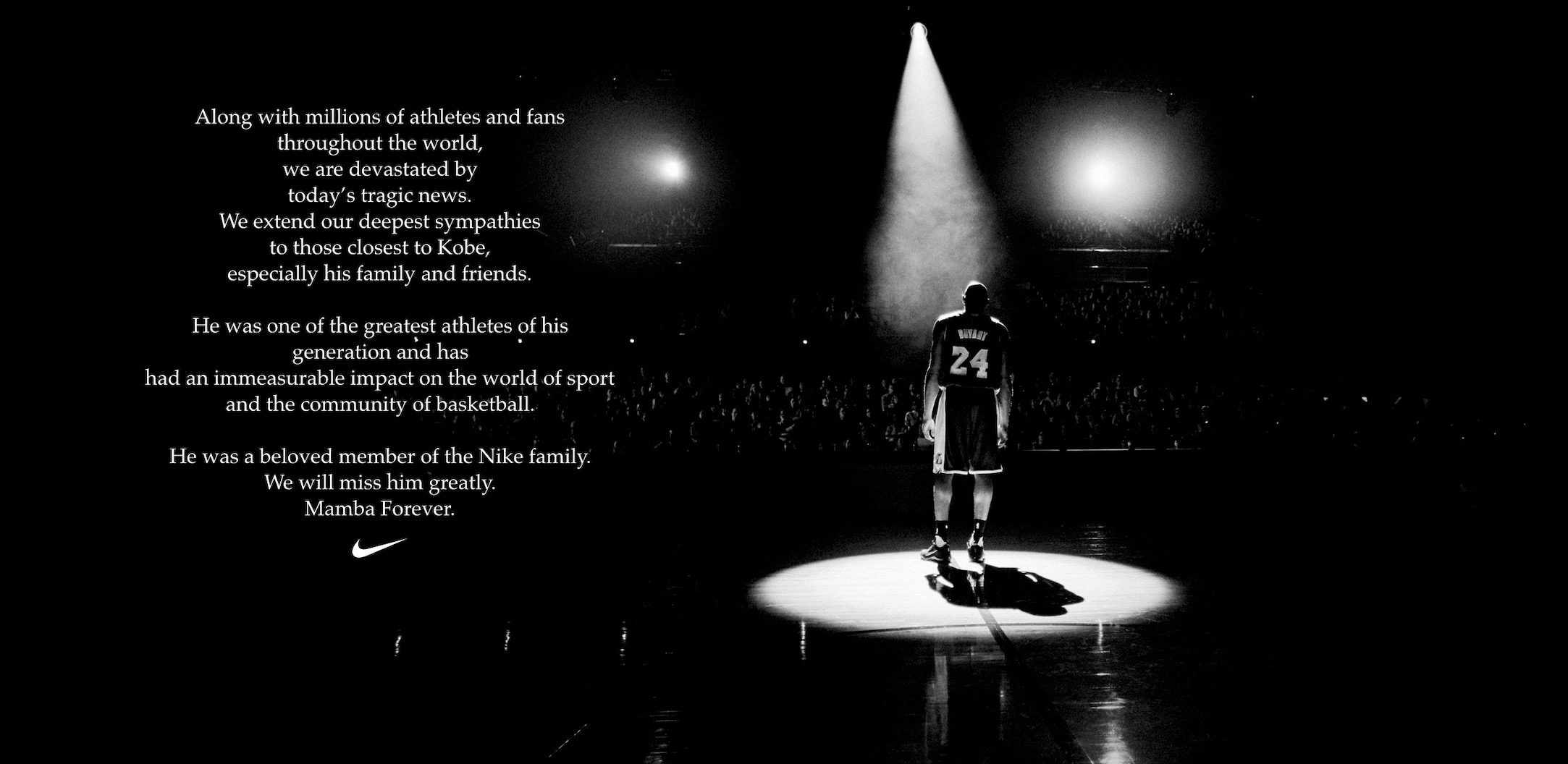 Other Endorsements by Kobe Bryant
Kobe Bryant was far from a one-hit wonder.. As reported by the Balance, these are among the other brands that he endorsed over the years. Presented alphabetically:
Lenovo

Spalding

Turkish Airlines
Kobe Bryant the Global Phenomenon

Kobe was extremely popular around the world. But his passionate following in China was incredible. Here is a video tribute from China.